Which Automatic Operators To Use
Posted by:
Admin
Tags:
Automatic Operators
Posted date:
09-09-2021
Which Automatic Operators Should I Use For An Automated Gate?
Which automatic operators should I use for an automated gate? We look at the available types of automatic drivers, and which manufacturers are considered as the best for your home or business.
A large number of installation businesses have their devices supplied by leading manufacturers, and these manufacturers are world leaders in electro-hydraulic and electro-mechanical innovation.
Secure Automation are automation gate installers for Newcastle and the surrounding areas. We have more than 30 years of extensive design and installation know-how.
We disperse a wide variety of automation tools, where we tailor-make your system. This consists of a vast selection of control and security tools. We are viewed as a vital business in the field of gate automation with comprehensive experience in both residential and commercial use automation.
Secure Automation are Approved Suppliers and Installers of automation. We have more than 30 years design and installation know-how. Our property, commercial and commercial drivers are seen as the premier option for leading businesses.

Our experience allows us to design a system that will match your demands precisely. This is supported with a full range of spares and accessories in supply at all times.
Our engineers are highly trained and are available 24/7 for our maintenance contract holders.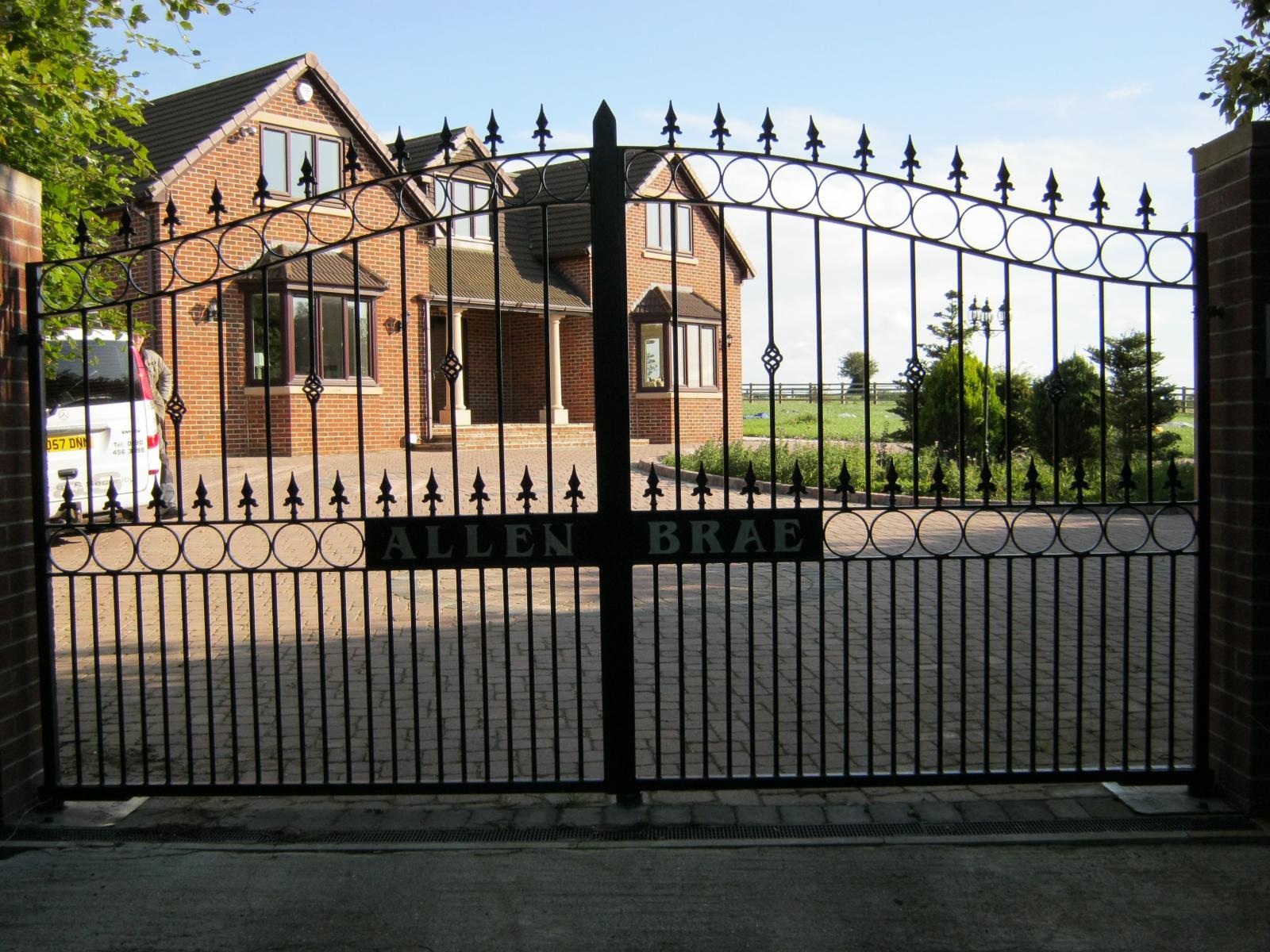 Benefits Of Having An Automatic Gate Opener
There are an array of benefits that come with having an automatic gate opener. They provide comfort, convenience and security.
An electric gate opener can solve various problems that come with a gate opening and closing. We highly recommend ensuring that the gate is correctly installed within the property if you decide to get one.
There are a lot of pros to having an automatic gate opener; some of these are:
Thanks to advances in technology, the stress of manual release and having to leave your vehicle to open the gate is no more. You can simply stay in your car and drive on in without hassle.
Automatic gates are all integrated with sophisticated security devices.
Most gate openers available on the market have an inbuilt safety mechanism that ensures your residence is safe and secured once you leave. The electronic lock capabilities automatically ensure the user peace of mind.
Another benefit of electric gate openers is that they are highly durable and therefore last longer. They are typically implemented with precision tech, protecting them from the damage accompanying changing weather conditions and general wear and tear.
This makes them a worthy investment and ideal for all types of use on both private or commercial properties.
One benefit of an automatic gate opener is that it can be tailored to fit any gate.
With various designs available, automatic gate openers can be easily combined with any gate design, adding value to the property.
This feature is an excellent advantage for someone looking to sell a property as an electric gate opener can significantly attract potential buyers.
With an electric gate opener on the property, buyers could be willing to offer more money.
There are a few things you should consider before purchasing an electric gate opener.
Tips to Buying A Gate Opener
Before buying a gate opener, you should ensure the gate motors are efficient and made from very high-quality materials.
It is also recommended you carry out a quality check of the accessories such as the mounting hardware, brackets, etc.
Detailed and precise assembly instructions are always worth looking out for when purchasing an automatic gate opener.
Ideally, you want an automatic gate opener to come with a detailed operating manual that is simple to understand.
Automatic gate openers can come with a lot of kit and many moving parts, such as ropes, springs, rollers, hinges, etc.
These parts should be free from maintenance to ensure a hassle-free experience while using the gate opener.
Not only should a gate opener be simple to install, but it should also be straightforward to operate.
It would help if you shopped for an electric gate opener that is easily installed and programmed.
You must consider the warranty information when buying a gate opener. Even if a piece of equipment is free from maintenance, it can still be prone to damage.
As a result, you should have some level of protection in the form of a warranty before making a purchase.
Before buying an automatic gate opener, ensure the device can still work in extreme heat and cold and won't malfunction during intense temperature days.
This information should be evident in the operating manual.
Since most gate openers are typically installed outside, they should be able to resist water so that their effectiveness isn't compromised in any weather conditions.
One way to access a gate opener's performance is via running speed and traction. Ideally, it would be beneficial to go for automatic gate openers with a pulling force ranging from 500N to 700N. And a motor that doesn't run for more than 11 centimetres per second.
You ideally want your gate openers to have is a secure safety mechanism, such as automatic obstruction and obstacle detection.
This prevents the gate from harming and people or pets. An entrance should also be equipped with an emergency release backup in case of a power outage. An extra mechanical lock system and thermal protection are also helpful safety features to have.
Not all gate openers available can be used for your gate. So ensure you know the exact measurements of your gate so you can choose a gate opener that can easily cope with your gate's maximum length and maximum weight.
For the electric gate opener to work efficiently, they need to be constantly connected to a power supply. This can cause a considerable amount of power consumption, so it is beneficial to find a gate that is made to be cost-effective regarding how it's powered.
One of the most essential components of a gate opener is the emergency release. This feature enables the gate to open even when the power is out or the motor ceases to function, so it is vital to ensure your gate has a working one.
How to choose the best automatic gate opener?
If you want to purchase an automatic gate opener, there are a few factors that you should consider.

Before buying a gate opener, you will need to measure the size of your gate to make sure it will fit. The size of the entrance is important too when choosing the most appropriate gate opener for your property.
There are a variety of gate openers available, from heavy-duty to light. A notable difference between gate opener types is the way they open and close the gate.
This determines whether the gate installed on your property is a single gate or double gate. The design of the gate also determines the position and location of the gate opener, whether overhead or underground. It is worth considering your preferences when making decisions on a gate.
Gate openers are available in various sizes and designs and the numerous mode of operating them. It would be best to determine the mode of operation you would prefer your gate opener to have.
You can access some with a keypad panel box, button remote controls, card reader or mobile phone, so ensure you select the best operating mode to suit you and your property.
The prices of automatic gate openers will vary depending on design, size, shape, mechanisms and manufacturer. So you must work out your budget before deciding on a gate opener.
There are numerous types of automatic gate openers. All types of gate openers fit into three categories, so it is up to you to decide which best suits you and your properties needs.
An automatic swing gate opens and closes similarly to the doors in your house, swinging back and forth, in and out. These classic looking gates are typically a lower price than other gate types, are suitable for both small and large areas and can be operated with a battery.
Automatic sliding gate openers slide from side to side. They are visually appealing and suitable for most entrances, including driveway fence gates.
It is effortless to operate, with adjustable auto-close and can be used remotely while in your car, with keypads, smartphone remotes, and other devices. It is compatible with either motor or battery systems.
Automatic Dual Gate Openers are common models with customers due to their simple double operating system that includes two pairs of photocells, double receivers, dual control boards, and an interface for slave and master mechanisms.
These elegant and classic single swing gates are best suited for small gates as they have a small distance.
Over Ground Operators:
Moving gate electric motors utilise a cog that is coupled with a toothed shelf affixed to the gate. The cog turns, involving the teeth on the rack, moving the gate in the desired direction.
Sliding gates need either assist track and guide brackets/roller overviews or a cantilever system to guarantee they move in a predictable fashion. Gate strikes and limit stops are suggested. This means certain gate travel is limited between specific restrictions.
Below Ground Operators:
These swing gate electric motors are mounted in a situation flush to the ground. The drive arm is fastened to the bottom of the gate on the very same axis as the joint.
They are discrete, providing enhanced gate visual appeals, but are usually more costly compared to a linear ram equivalent. Due to the fact that they are underground motors, draining is a must. Groundwork is required for easy installation, so plan ahead and allow sufficient time for the concrete to set and the drain to be examined.
Check your drain before putting electric motors into the ground. The electric motors could hold up against splashing for 15 minutes, however, not immersion underwater.
If you are looking for electric gate installation in Newcastle and the surrounding areas get in contact today. Our automated gate installation services include a choice of gate operators.