How can electric gates make your home safer
Posted by:
Admin
Tags:
Posted date:
18-10-2016

How can electric gates make your home safer and more secure?
When you are looking at improving security at your home or business the first place to look is at your gates and fences. These are your first line of defence. So it is important that these set the tone for the rest of your home or business defence.

Electric gates can help massively with securing your home and making it safer for you and your family. They can control who has access to your property and they are also a great deterrent to burglars and thieves.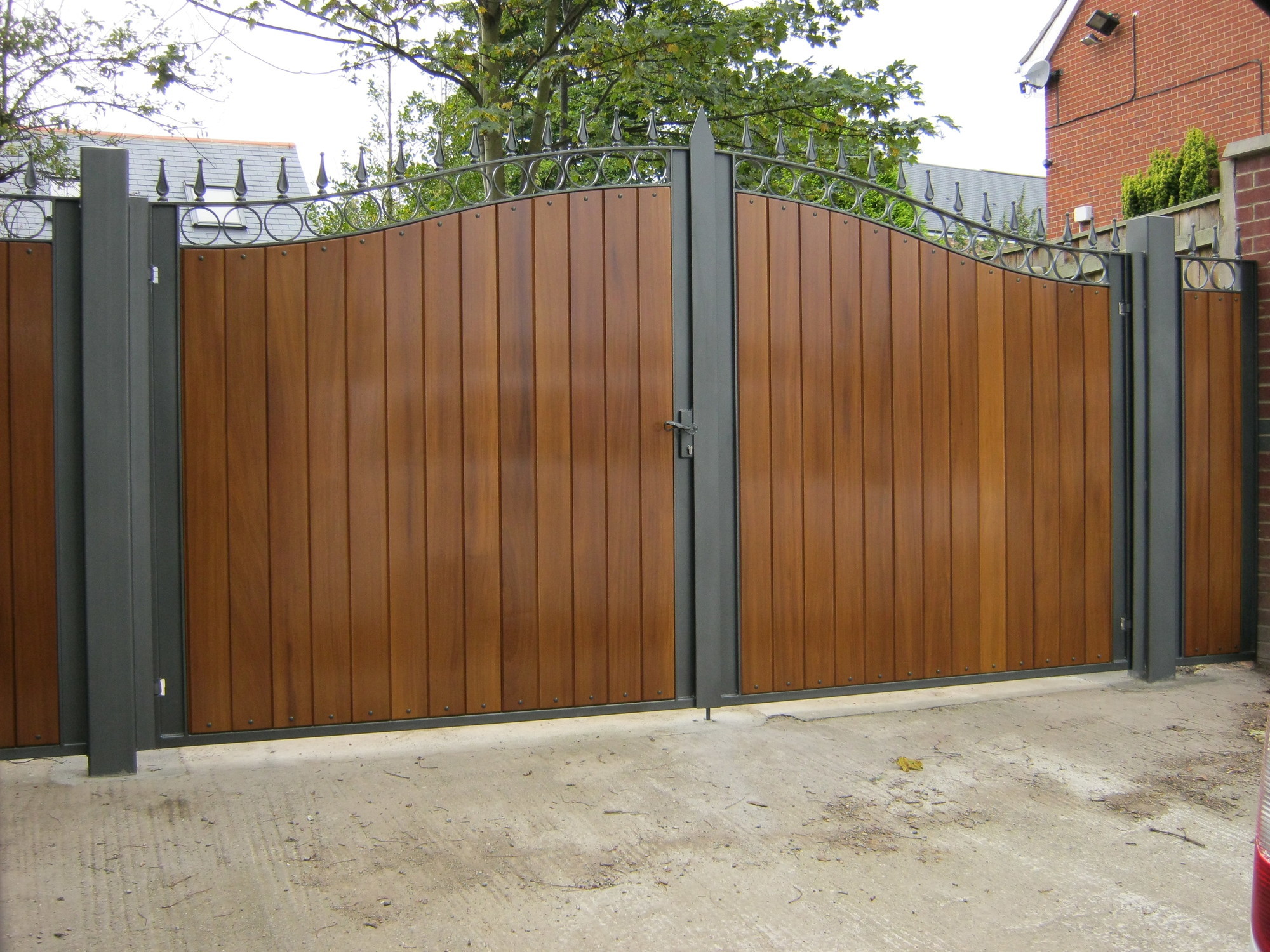 Why choose Electric Gates?

Electric gates also allow a great way for keeping pets and small child away from the road and safe in general. They also do a great job of barring cold callers before they even set foot on your property.
When any intruders see that you have electric gates it will plant doubt in their mind. They will expect further security measure to lay beyond the gate.
A common trick used in the past by thieves is to wait until you are out of your car operating your manual gates. While you have left the engine running they swoop in and drive off.
You may be able to get your car back through the insurance. But electric gates prevent this situation happening at all as you never have to step out of car to open or close them.
Just press a button for them to open and they will close automatically after you. You can drive away safely and your property can be safe while you are away.
Of course electric gates can't offer all the protection your business or home needs. But it is a great start. And we can offer many other products to allow you to feel even safer and in control of your property.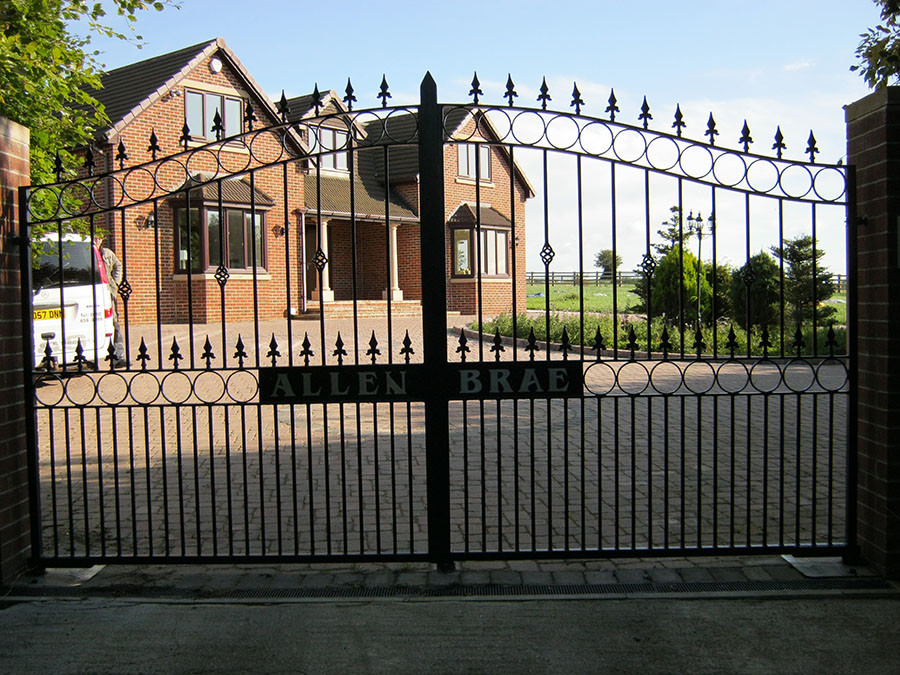 Are electric gates good value for money?
If you have ever considered buying electric gates in the past but have been put off by the cost, it may be time to have a think about them again. In recent years electric gates have gone down in price dramatically.
This is simply due to the demand increasing and companies like us being able purchase parts and materials cheaper.
As well as the cost going down your security will go up just as dramatically if you decide to purchase electric gates. If you already have manual gates then you know just how easy they are to get into. All you have to do if they are unlocked is to open the latch and swing them open.
People trying to access your property may see traditional manual gates as an easy opportunity waiting for them.
The benefit to electric gates are that they open from the push of a button. Either from inside your car or inside your home.
So you can open them without getting cold in the winter, or wet most of the year round. They are a lot more of a deterrent to anyone trying to access your property who haven't been invited.
To let people into your property you can have an audio or video system attached to your gate so you know who they are. Anyone trying to access your property will see this and that will be enough to plant doubt in their mind.
There are many other benefits to electric gates such as more privacy. With the cost being only around £2000 now they are affordable and more secure than ever before.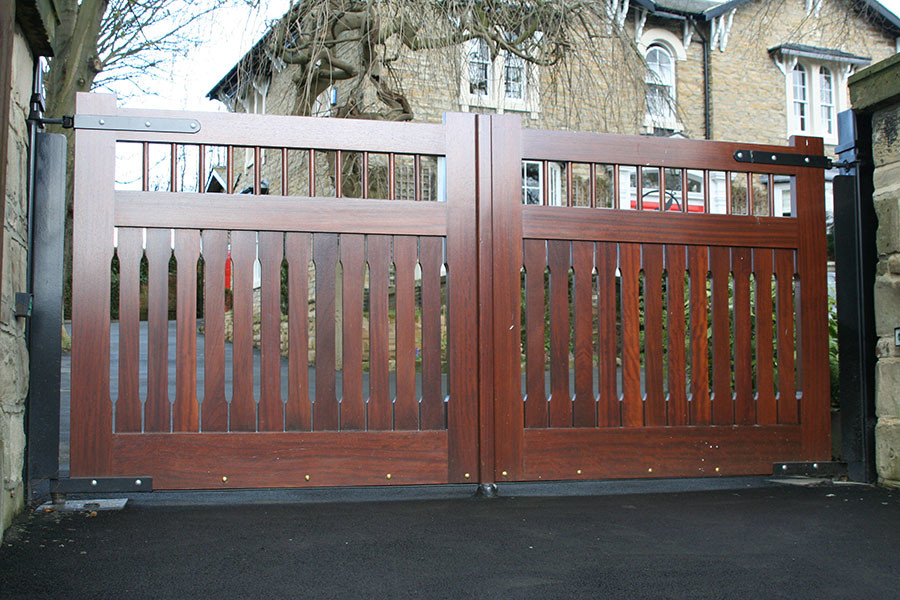 A buyers Guide to Automated Gates

Automatic gates are a great way of protecting your home or business from intruders. They can also add value and style to your home.
But choosing the right style of gates isn't always easy and so we have come up with this buyers guide to try and help you as much as we can.
Automatic gate operating style
This is how your gates will open. The most common and convenient way of gates opening is a swing motion. These swing open and close either from the middle if you have 2 or from one side if you have 1. If you already have a manual version of this type of gate then installing an automatic version should not be any trouble at all.
Choosing the materials to use
This is where the style points really come into play. You will have to decide what will look better, wood or wrought iron. Wood can provide great privacy as well as a simple design.
But if you are looking for a more ornate design the wrought iron will more likely be the best option. Both types are easy to keep looking good and only take a few hours a year to maintain.
Systems operators
A below ground system is often more expensive than an over ground system. This is due to the need of having to excavate. However they do offer a way of making your gates more tamper proof and are often considered better looking.
These are just a few things to consider while you are thinking of getting automatic gates installed. The others are safety features and intercoms and entry systems. If you would like some more information about these then please feel free to get in touch.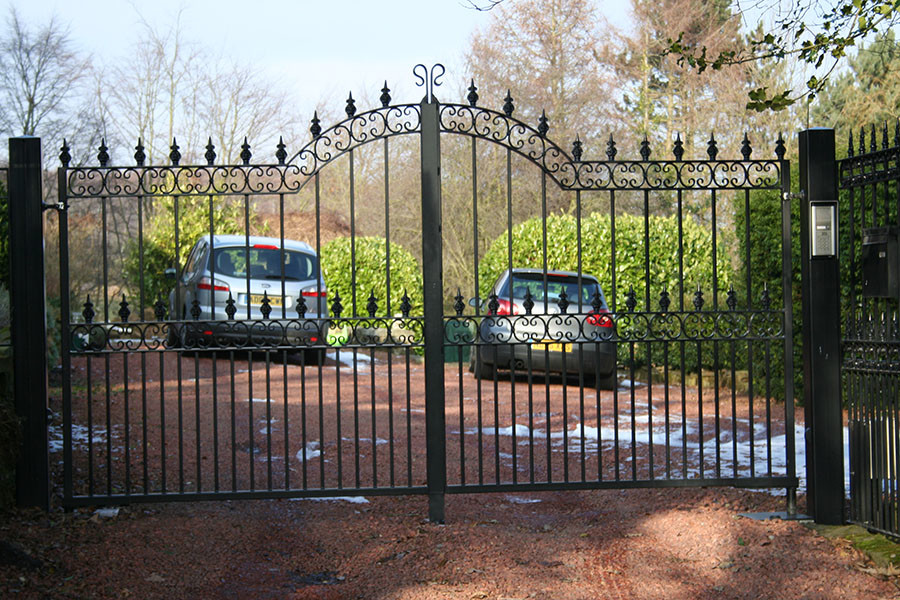 The Importance of Gate Safety

Gate safety is a crucial part of owning any type of gate. Whether it is electric or manual or for your home or business safety is important.
Having a gate which works safety and correctly every single time it opens is exactly what you should expect. If you don't have that then you need an expert to come out and give your gate some much needed maintenance.
Gate safety really falls down to the customer, to you. Choosing a reputable company like ourselves will ensure that your gate is operating safely and will continue to do so.
Trying to save a bit of money by getting your gate installed by a company without a track record can be a mistake. It may well end up costing you a lot more money to put their mistakes right.
When there is a problem with your gate not working safely it can be a matter of putting a loved one in harm's way every time they operate the gate. If the gate is operating too fast or in a jerky motion it can catch people off guard.
Gate safety really comes down to money. Getting your gates installed by a reputable company like us will save you money in the long run.
Our prices are not that high to begin with and we can give you some great advice about maintaining your gate. This will ensure that it works year after year. By maintaining your gate you will ensure that your family or employees are safe.
You don't have to do a lot of work to ensure that your gates are safe. The best recommendation we can make in regards to gate safety is to choose a reputable company like us to install your gates in the first place.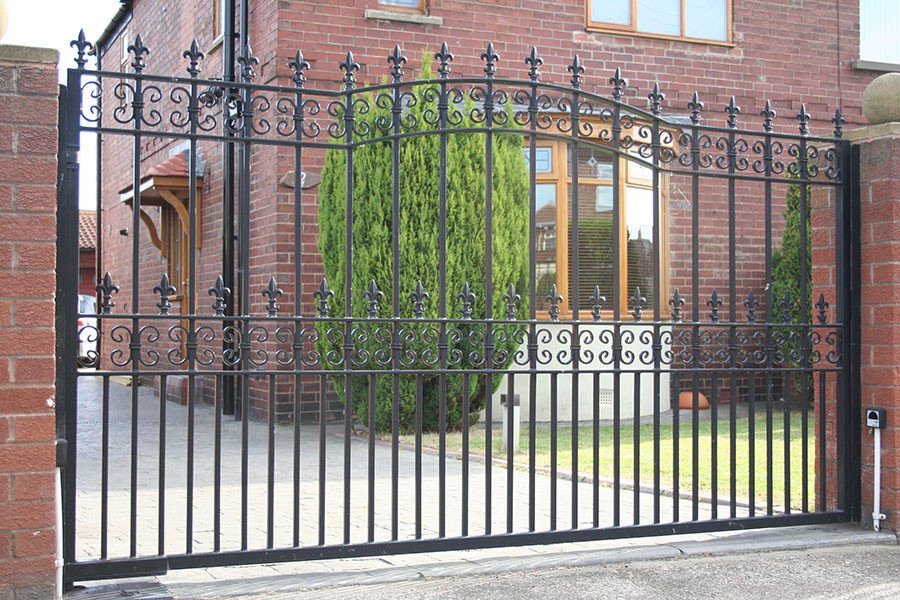 Tips for Buying Electric Gates

Buying electric gates can be quite a challenge. Finding the perfect gate for you and your family or business can be a real struggle.
After all you want it to invite guests in and keep intruders out. This while being safe for your family to use. All of these needs need to come in a great looking package.
Here are some tips to help you.
How much do electric gates cost?
Firstly have a think about what you want your gate to do. Is it for protection? Perhaps you have been broken into and want to try and avoid it happening again. Or perhaps you want to add a bit of flare to the exterior of you home.

Choose the right electric gate system for the space you have. Homes and driveways come in all different shapes and sizes. So choosing the perfect one is important. If your driveway is only just big enough for a car then will swing gates work? Maybe you will need sliding gates instead.

Ensuring you have a manual override is crucial. Electric gates are great for most of time. Even though power cuts are rare nowadays they can happen. And electric gates are pretty useless in a power cut. You certainly wouldn't want to be stuck in your home with nothing to do!

Choosing a material is another very important part of deciding what your gates will be. Choose something that matches the exterior of your home. If you have a lot of trees in your garden then perhaps wood is the best option or if you have a wrought iron fence then maybe continue the theme.

Above all the most important part of designing a gate is finding a company that can help you design your gate. Just remember that companies like us do it for a living. So we may well think of something that you might overlook for example what will happen when you get a delivery?
Asking a company like us to be with you throughout the design process will ensure that we are all on the same page. We can then guarantee the perfect gate to suit you and your needs.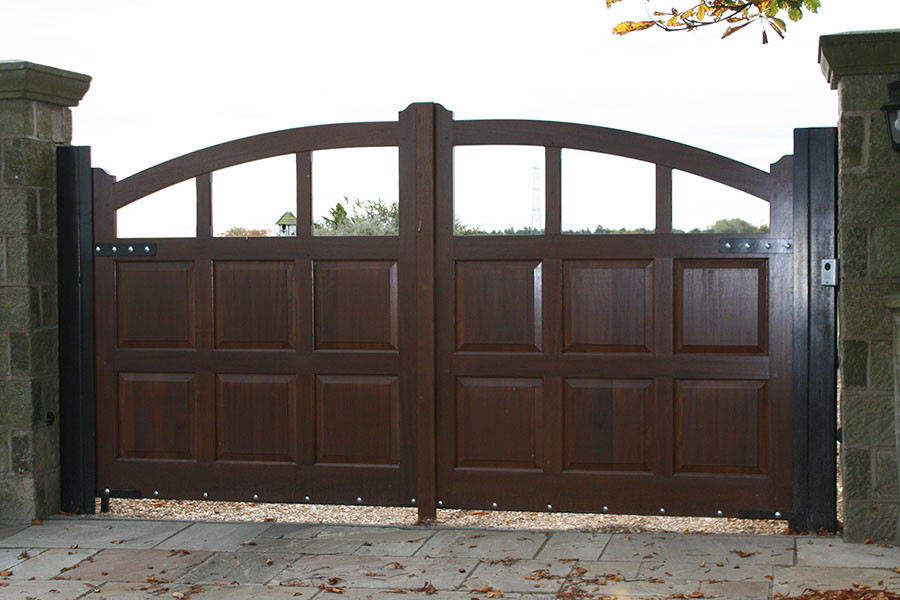 Frequently Asked Questions

Electric gates offer their users the power to decide who enters their property. They have great safety features and can last a long time. However, they are not always as expensive as you may think. They can also be used in conjunction with other great safety features.
Here are the 10 FAQ's we get about our gates.
How much do electric gates cost?
The cost of your gates will vary depending on the size of the gates that your property requires and the materials you may want to use. Also whether you will want intercom systems and other similar security. Taking all of these factors into account the average price is just over £2000.
Metal or Wood?
Metal tends to be the cheaper option depending upon the design you want. However wood is considered the more traditional. Wood requires more maintenance than metal but not a great deal. So it just depends what which you prefer, both will make your home or business secure.
What about planning permission?
Planning permission may be needed for new installations so it is best to check with you local authority to make sure. If you already have old manual gates then you should be ok but it is always best to check.
Do the gates need power?
All of the electric gates will need power and we can determine the best way of providing power to your gates.
How will my friends get in?
We can install an intercom system or other form of entry system. So you can be aware of people at your gates and decide whether you want to let them in or not.
What about a fault in the system?
If there is a fault in the system then the manual override that we install in all of our gates will kick in. You can still operate the gate.
What about a power cut?
Once again without any power the gates will simply revert to manual override mode. So you will have no problem accessing your property.
How much will maintenance cost?
This will depend on the type of system that you have. Annual maintenance from us costs between £100 and £200 expect in very exceptional cases.
How far will the controls work from the gate?
Typically the remote control for your gate has a signal of between 30m and 80m depending on the manufacturer. Normally a gate remote control allows you to open and close the gate at a comfortable distance.
Can't I just do it myself?
Yes, you can install an off the shelf electric gate yourself if you want to. However we must recommend that it is easier, safer and a lot less hassle to get us to do it for you.
If you have any more questions that we didn't get to answer then feel free to get in touch.
Electric Gate Suppliers

If you live in the Newcastle area, we offer a high quality service for electric gate installations. Our experienced team can provide help and advice with your new gate design and supply.