Commercial Security Gates
Newcastle
Secure Automation offer a range of security options for commercial properties throughout Northumberland, Sunderland and Newcastle. This make us your first choice for commercial security gates in the North East. We can offer your business the security that you require to ensure that your property and employees remain safe and secure.
We offer a range of high-quality security options to ensure that you are in total control over who is entering your property, protecting it against unsolicited visitors and trespassers.
Commercial Gates
Our range of bespoke gates provide the ultimate security solution to your business. We design, manufacture and install cantilever, sliding gates and hinged gates to your specific requirements. We offer our clients the latest technology in security materials, providing complete control of who enters or exits your premises. For an extra layer of security, our electric gates can be installed with additional access control systems to only allow access to authorised personnel.
For more information, give us a call on 0191 511 82 40 to speak with a friendly member of our team to discuss your requirements.

Our huge range of products cover the following areas:

Security gates for commercial use
Industrial security gates
Integrated security systems
Commercial security solutions
What is the Best Security Gate?
The best security gate will generally depend on your specific requirements, and what you want to get out of the gates. Below, you'll find a guide to choosing security gates for your commercial property. It is important you choose the right security gates to meet your specific requirements. If you need any further assistance, please contact us today.

Hinged Swing Gates
They are ideal for making an impression on your visitors. Usually made from wrought iron or stainless steel, each gate is made to your specification, guaranteeing a perfect fit and a bespoke design.
Sliding Gates
Electric sliding gates are perfect for premises who have wider access points, such as industrial warehouses and depots. They are also more economical and requires less maintenance, but are no less impressive as it can be customised to match corporate colours or include logos.
Security Bollards and Barriers
Secure Automation offer a one-off solution when comes to security barriers and bollards. They are ideal in providing a physical obstruction to prevent access of unwanted vehicles and pedestrians alike. Our barriers are available as manual or automatic operating and our bollards are available as static or automated.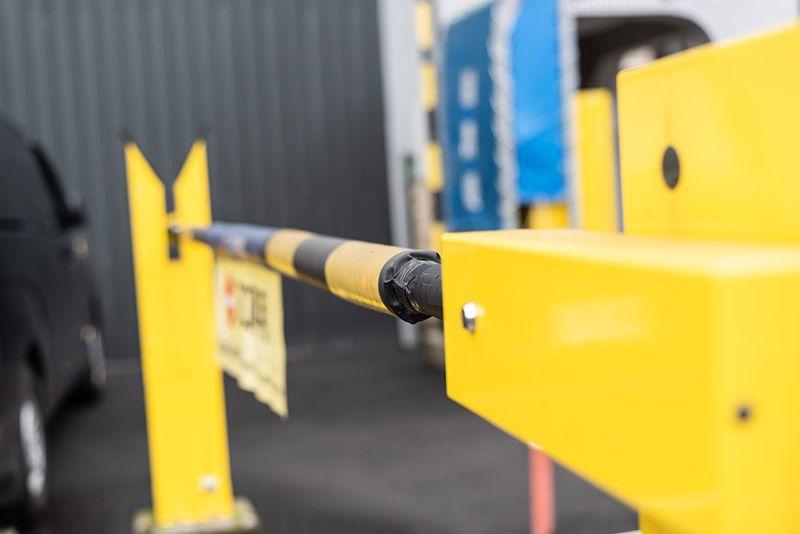 BARRIERS
Whether they are operated manually or automated, we provide a range of security solution for your property to ensure that your business is protected. They are ideal as car park entrances and boundary control for businesses in all sectors, including public buildings such as hospitals and libraries.
Bollards
We can install bollards on your property to prevent access for any vehicle. Our bollards provide an impassible barrier whist active and provide no obstruction when retracted.
Commercial Security Gates Installation
You can contact Secure Automation today to find out more about our range of commercial gates, bollards and barriers in Newcastle, Northumberland, Tyne & Wear and the North East. Call us on 0191 511 82 40 or complete our contact form with your enquiry and we will be in contact as soon as possible. Find out more about the areas we cover for our made to measure gates in Tyne and Wear.
How to Choose Security Gates for Your Commercial Property?
1.
Decide the Level of Crime you're Protecting Against
Firstly, you need to decide how secure you need these gates to be. You should take into account the crime rate in your area, your valuable assets in your commercial property, and how protected you want your property to be. The more secure the gates are, the less likely people will break-in, and these gates are also a great deterrent against crime.
2.
Choose a
Security Gate
Design
Next, you can choose the design of your security gate. There are a wide range of security gate designs to choose from, including patterns, colours and much more! There are security gates that will go with the characteristics of your building, and that are very professional looking.
3.
Look for
high strength
gates
It is a high possibility that thieves will want to break into your property, so it is important to have the right security measures in place to stop them from getting in. Choosing a gate with high strength will mean that it will be harder for anyone to break-in.
4.
DIY
or
Custom-made?
You can do security gates yourself; however, the process can be complex, and if done incorrectly, your security gate won't work as it should. It also may not serve its security purposes. The best advice is to get your gate from a professional, which is custom-made, and you know it will meet all the requirements.
5.
Short Term Savings
vs
Long Term Security
Choosing short-term financial savings over long term security will actually cost you more money in the long run. This is because it will be more likely for your valuables to be stolen if you choose a cheaper and less secure gate. Less secure gates are also more likely to get damaged under attack, which again, will cost you more money for repairs or replacements.

6.
Buy Security Gates
with
Good Locks
It is important to have security gates that have high-quality locks at them, as this adds extra security to your gates and your property. This means it is less likely for thieves to get into your property. If you need help finding good locks for your security gates, then please don't hesitate to get in touch with us today, and we'll be happy to help.

7.
Check
with a
Professional
Before buying your security gates, it is essential to check with a professional to ensure they are right and will work with your existing setup. A professional will also be able to give you the best advice. It is important to consult with a professional before you buy the gate to ensure you don't waste your money.
Options for Security Gates
There are many different features you can add to your commercial security gates to make them better suited to you and your requirements.
Here are a few of the main examples:
SLIDING ELECTRIC GATES FOR TIME SAVING
Instead of having to manually open your gates every time someone enters or exits your property, the gates will automatically open themselves, saving you a lot of time!
CCTV
Adding CCTV to your security gates can add even more protection, and also act as a deterrent against thieves. This is because thieves will see the CCTV camera, and know they'll be caught. Also, you'll be able to see who is gaining access to your property.
CONVERTING YOUR EXISTING GATES
You can even get your existing gates converted to electric security gates, which will save you buying brand new gates. This process must be completed by a professional with years of experience in the industry.
CHOOSING THE MATERIAL FOR YOUR GATES
Security gates come in a wide range of materials to match your property characteristics, so you can personalise them to look exactly how you want them to. If you would like to see our variety of security gate materials, then please give us a call today.
SECURITY LEVEL
You can choose the security level for your gates. The higher the security level, the more protection you will have for your property. If you are unsure, or you would like some further advice, please give us a call today.
Benefits of Security Gates for Businesses
There are so many benefits for having security gates protecting your commercial property.
Here are the main few:
Aesthetic Options
There is a wide range of different security gates you can have, with a huge variety of features to make your gates your own, and so they can meet all of your requirements. These gates can look stunning and add professionalism to your property.
Physical Deterrent
Security gates are a deterrent against thieves, as they know it will be hard for them to get in, and easy for them to get caught.
Saves Money
Without automatic security gates, you may have to pay security to patrol the entrance to your property, which is costing you money to pay their salary. Therefore, having automatic security gates can save you money.
Greater Control
Security gates will give you more control over who leaves and enters your property, which makes you, your valuables and your property much more secure and protected.
Foolproof Convenience
It is sometimes possible for security guards to accidentally forget to lock the gates after they have finished their shift; however, electric security gates can lock themselves.
Legal Compliance
Automation and Security can ensure your gates comply with the law, and they will be fitted to perfection. For more details, please don't hesitate to give us a call today.
Return on Investment
Security gates will keep all your valuables that are left in your commercial property as safe as possible. This saves you having to replace them if they ever get stolen.
Our team of highly trained and experienced gate engineers will work with you to design the perfect security solution for your property and individual requirements. We will offer you a range of bespoke options for style and level of security required.
electricgatesandbarriers@gmail.com
Contact Form